Happy Sunday!! I am on a camping vacation right now in the beautiful state of Minnesota. We are having a blast. Had SO much fun at the zoo today and have plans for going to the Mall of America tomorrow. So with limited time to post, I am going to get this party started!!
Here are my favorite photos from the week. This was a fun photo session I did with Ally. The best part of it was my discovery of a turquoise wall that I didn't know existed
right
by my house!
If you haven't linked up to Sweet Little Photo Swap before, here are the rules.
1) Please write a SPECIFIC photo swap post
2) Share 5-10 of your favorite photos from the week and share why you liked them.
3) Link back to Sweet Little Photo Swap with a link or a button.
4) It would be AWESOME if you would follow Sweet Little Gals
5) Follow at least TWO other people on the photo swap list
6) ENJOY!! ;)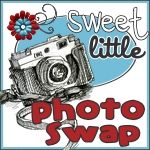 And the other exciting news is that I am
starting a brand new linky party this Tuesday that you will
want to check out called Turquoise Lovin' where you
will share all of your turquoise posts!! Hope to see you then!