Welcome to the 8th Sweet Little Photo Swap! LOVE swappin' photos and seeing what all of you have been up to this week. And this time I'm going to try something new and do a photo caption party. We'll see if it works. *wink* (I've also been thinking about doing photo features, but I think I will wait till the party grows a bit more.)
Here's MY favorite photos from the week. (A lot of them are from the photo shoot I did last week that I talk about
here
)
A little bit vintage
Cousins
She poses so well!
Natalie wasn't so sure about this photo shoot thing...
Lovin' the glasses
Little stinker
SO happy
My favorite of the shoot...I got it just as we were about to leave.
My funny little Whitney
She loved the horsey!
If you haven't linked up to Sweet Little Photo Swap before, here are the rules.
1) Please write a SPECIFIC photo swap post
2) Share 5-10 of your favorite photos from the week and share why you liked them.
3) Link back to Sweet Little Photo Swap with a link or a button.
4) It would be AWESOME if you would follow Sweet Little Gals
5) Follow at least TWO other people on the photo swap list
6) ENJOY!! ;)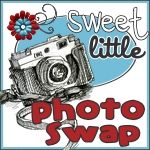 Grab a sweet little button from the sidebar!
HAPPY WEEKEND!