So this is Inspire Me Monday, inspired by my new bloggy friend Bec.
Join her over here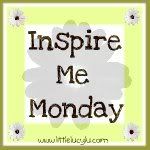 for all of the inspiring posts of the day! Thank you Bec for inspiring us with your sweet stories of your family. You have already been a blessing to me and I just "met" you! :)
Since this is the time of day I do my devotions (or at least when I am "supposed" to be doing devotions) I thought I would share a devotional thought with you all.
And since my blog is named Suitedreems I want to share with you my thoughts about the things I like to dream about.
I dream that someday I can be a blessing to those around me, that I can inspire someone to follow Jesus more than they ever have before.
I dream that I can be an example to my babies of how Jesus wants us to be...beautiful, loving, kind, caring, hopeful, and full of faith.
I dream of having an organized house where I can provide an environment of peace and serenity to my family. Wow, this one seems like only a dream right now!!
I dream of starting my own business making lotions and creams and beautiful handmade things to share with others.
I dream of owning four beautiful horses that I can ride with my girls over the vast prairies of North Dakota. Ahhhh, I can smell them and feel their sweet soft noses on my carrot-filled hands.
I dream of someday being able to make my own CD of piano music as well as publishing my own books of the music I have written through the years. I want one of these to include the Lullabies that I have written for my girls.
I dream of someday being able to understand the Bible so much that I am able to explain it's inner beauty to those around me.
I dream of being able to do thousands of fun things with my little family such as camping, hiking, swimming, skating, sledding, and making memories that will last forever.
I dream of being able to cook so well that my hubby and girls will brag on me and say I am the best cook in the world!! lol
I dream of spring and running through the green grass followed by little feet.
I dream of being able to be an awesome photographer and even being able to have my own photography studio in my backyard someday!
I dream of being surrounded by friends who love to share and talk and do fun things with me.
And oh how many more things I dream of...I can't even count the things I want to do and see before my life is over!
Jesus help me to not only fulfill my dreams but also to see the needs and dreams of those around me. May I help someone else to fulfill their dream and especially may I fulfill the dreams YOU have for me...
Thank you for dreams and the ability to be a child of YOURS. I know YOU will help me to fulfill those dreams that YOU have for me and may MY dreams be eventually lost in YOURS.
How many of you take time to dream? I would love to hear about your dreams!