Wow!! I can't BELIEVE it's Sunday
already.
And that this is photo swap #4. I must tell you, I've been having SO much fun enjoying all of your photos. Thank you all SO much for participating each week. I hope you will all continue to join this party and invite your friends along too! I'm sure hoping this party grows with time so that we can enjoy even MORE great photos.
I was in Montana for most of this week but was unable to take as many pictures as I would have liked to because I forgot my battery charger at home. Very frustrating since the scenery there this year was especially gorgeous!!
Oh well, we had fun anyway. And I still got a FEW cute photos to share. The rest I took
yesterday
on a drive we took by our house. The clouds were spectacular and SO colorful. The pics really don't do them justice. (And Ally was having a blast hanging her head out the window.)
Nothing like a forest campfire in MT ;)
Playing peekaboo
She's standing up now!
Love the lighting of this one
Gorgeous sunset on the lake
Ally loved hanging out the window!
I hope you were able to take some really fun pictures this week too! Can't wait to see them.
And PLEASE remember to follow the party rules. (I will be DELETING people who link up just a random post.)
Write a specific post FOR Sweet Little Photo Swap, link up with Sweet Little Gals (put the button on your post somewhere), and be sure to include AT LEAST 5 photos in your post to share with others!! And finally please follow Sweet Little Gals (and two others from the party).
Here's the cute little button that should be found on your post somewhere...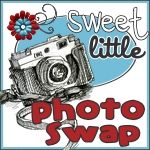 And thanks SO much for your participation! Couldn't do it without you!