It's Sunday again and time for another photo swap! Sweet Little Photo Swap is a fun time to pick your favorite photos and share them with others. And the best thing about it is it helps us to remember to take pictures each week!! I love that. I was so happy to have some new "swappers" this past week. Hope all of you can link up again and share your lovely pictures with us.
We had so much fun in Montana this past week with all of my family. It was SO sad to leave. But I am always happy for the memories and the chance to keep them all inside my camera. We were able to explore a lot and even got to go on a boat ride. Needless to say, the kids really had a blast. Hope you enjoy these pictures from our time there.
We took a boat ride through the Gates of the Mountains. It was a two hour guided tour and a lot of fun. I would love to take our own boat through there someday. I just love these mountains. I just can't seem to get enough of them!
Our view
It was spectacular
Big old rock
Gates of the mountains
Barn by my home
Boulder River
Ally running through the sprinkler
Whitney being her crazy little self
Brandon...such a cutie!
Love this pic of Ally's toes
If you haven't linked up to Sweet Little Photo Swap before, here are the rules.
1) Please write a SPECIFIC photo swap post
2) Share 5-10 of your favorite photos from the week and share why you liked them.
3) Link back to Sweet Little Photo Swap with a link or a button.
4) It would be AWESOME if you would follow Sweet Little Gals
5) Follow at least TWO other people on the photo swap list
6) ENJOY!! ;)
And be sure to grab a sweet little button so we can share the fun with others!! ;)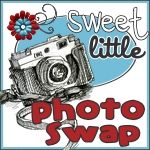 Hope you have the best Sunday ever!!